Child Care Subsidy
From 2 July 2018, Child Care Subsidy (CCS) had replaced the Child Care Benefit (CCB) and Child Care Rebate (CCR). CCS helps families with the cost of approved childcare.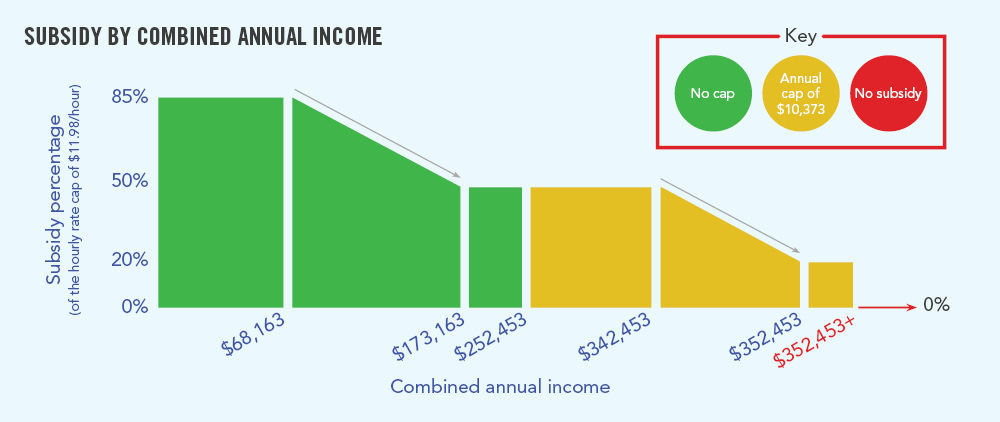 Department of Human Services ("Centrelink") pays this subsidy directly to childcare providers to reduce the fees you pay. The amount you may be eligible for depends on:
Your total combined family income

How much 'work-related' activity (see education.gov.au) you and your partner undertake each fortnight. The entitlement is based on the lesser activity figure for a member of a couple.

the hourly rate cap based on the type of childcare you use and your child's age
Our Flexible Session Options
Help You Minimise Out-of-Pocket Cost
We understand that each family has its individual situations and needs when it comes to your young child and your CCS entitlements. We are here to help you.
We offer four different sessions to help you maximise the CCS you can receive from the government, therefore minimise your out-of-pocket cost.
You can choose between:
a full-day session from 7:00am to 6:00pm, or

a 10 hour session from 7:30am to 5:30pm, or

a 9 hour session from 8:00am to 5:00pm, or

our pre-school hours from 9:00am to 3:00pm (only available on Mondays and Fridays, also subject to space availability and our approval)
Based on how many hours of subsidised care you are entitled to, and your personal situations, we can help you choose the best session that meets your needs and minimise your out-of-pocket cost for childcare. You are welcomed to give us a call during our opening hours to find out how we are able to help.
If you have known your CCS percentage and hours, you can also use the CCS Calculator provided by our peak body – Australian Childcare Alliance – for a free and discrete assessment for how much CCS you may be entitled to and how much weekly cost you will be paying out of pocket. We have no data sharing with them at all. So using this link ensures that the privacy of your personal information is totally secure, and there will be no unsolicited contacts sent to you.
https://childcarealliance.org.au/blog/142-childcare-subsidy-calculator